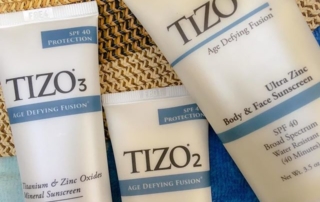 21 Mar

TIZO Mineral Sunscreens: Complete Anti-Aging Sun Protection

For total sun protection that moisturizes and keeps sensitive skin balanced and hydrated, TIZO Mineral Sunscreen is the best product on the market. TIZO'S line of products offers the most complete protection of all harmful rays by physically blocking UVA and UVB radiation from absorbing into the skin using titanium dioxide and zinc oxide. MC Laser Clinic & Hair Salon clients love the lightweight matte finish that they can easily wear under makeup without worrying about it blocking their pores.

Most pharmacy brand sunscreens are greasy and leave an oily film on our skin, which makes applying makeup virtually impossible. If you're spending a day at the beach, this isn't a worry, but what about a regular day? Dermatologists have long suggested that people wear sunscreen every day to protect their skin from UVA and UVB radiation. But typical brands don't provide UVB radiation protection.

Benefits of Using TIZO Sunscreen
TIZO Mineral Sunscreens aren't just effective sun blockers. They are also part of your daily skincare regimen. Formulated to go on smooth, it won't leave a white or chalky residue on your skin, and its matte finish is the perfect primer for makeup.

Natural Skincare
TIZO Mineral Sunscreen is free of parabens, dyes, perfumes and chemical sunscreens. After all, what's the point of using sun protection if you're going to apply harsh chemicals to your skin.

Complete Physical Protection
These days, it's common to see SPF 100 in stores. Unless the sun is physically blocked by zinc or titanium oxide (TIZO uses both), its rays will eventually penetrate and damage your skin. TIZO sunscreen protects against UVA and UVB rays, will not break down like chemical sunscreens and is water resistant for up to 40 minutes. Plus, it offers broad spectrum protection also is perfect for both adults and children.

Anti-Aging
The sun's harsh rays are responsible for premature aging. Wrinkles, spots and blemishes can make the skin appear old, withered and uneven. TIZO Mineral Sunscreen offers anti-aging protection by keeping the skin moisturized and by blocking out radiation. Use the sunscreen every day for complete protection and to shield your skin from damage.

For Sensitive Skin

TIZO Mineral Sunscreens were specially formulated for people with photosensitivity. This unique formula will not irritate skin and is ideal for use after certain skin procedures like laser, microdermabrasion, and chemical peels. Use on children is perfectly safe as it does not contain harsh chemicals.

Wide Selection

TIZO has a wide range of mineral sunscreens that provide total sun protection, such as:
TIZO3 Facial Mineral Sunscreen
Tinted mineral sunscreen that provides a silky-smooth matte finish and glides on perfectly over skin.
Contains the two best physical sun blocks: zinc and titanium oxide that help prevent premature skin aging caused by the skins harmful UVA and UVB rays
TIZO2 Facial Mineral Sunscreen
Non-tinted formula designed for lighter skin tones.
Perfect for everyday use. It's silky smooth matte finish won't leave a greasy residue and blends perfectly with makeup.
Contains the two best physical sun blocks: zinc and titanium oxide that help prevent premature skin aging caused by the skins harmful UVA and UVB rays.
TIZO Ultra Zinc Body and Face Sunscreen
Designed specifically for sensitive skin.
Contains zinc oxide, the best sunblock for your skin.
Won't break down in sunlight.
Tinted or non-tinted.
TIZO SheerFoam Sunscreen SPF 30
The lightest and gentlest mineral sun protection that provides a non-greasy, weightless finish.
Perfect for everyday use.
Why Do We Recommend TIZO Mineral Sunscreen?
The sun is a major contributor to premature aging and skin damage which can lead to more serious conditions, such as melanoma. For anyone wanting total sun protection without sacrificing their daily skincare regimen, we recommend TIZO Mineral Sunscreen, which moisturizes as it protects. It combines gentle ingredients and the world's best UVA and UVB radiation blockers and leaves your skin feeling smooth, silky and protected. For a skincare formula that rejuvenates as it protects from sun damage, our clients always stock up on TIZO Mineral Sunscreen for their sunny getaways.
Visit MC Laser Clinic & Hair Salon to try a sample of TIZO Mineral Sunscreen products.