There are so many different elements that can change the appearance of our skin, including the environment we live in, genetics, and the aging process. Sun damage is a common condition that can make the skin appear older with reduced elasticity, allowing fine lines and wrinkles to develop.
Here at MC Laser Clinic, we use Cutera® Laser Genesis, an advanced non-invasive treatment that stimulates the skin's natural renewal process to improve its overall quality and produce a radiant, more youthful complexion.
This non-ablative laser treatment helps reverse the signs of aging before they start by restoring your skin's healthy appearance, while addressing visible imperfections, such as sun damage, fine lines and wrinkles, enlarged pores, excessive redness, acne, and acne scarring.
During the first treatment, you will start to experience the amazing renewal properties of Laser Genesis. By gently heating the skin to 45 degrees, the laser begins to correct fine lines, diminish unwanted brown spots and facial redness, and improve the overall health and appearance of your skin. This gentle procedure requires no downtime. In fact, you can even do it on your lunchtime and be back at work immediately — only with glowing skin!
Book a Consulation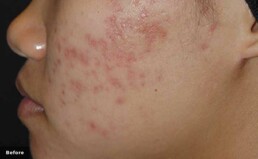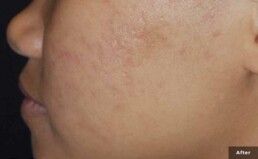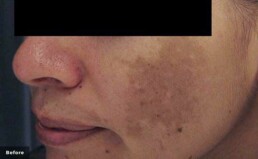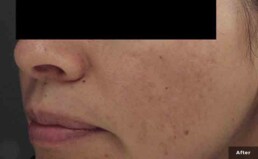 Benefits of Laser Genesis
If you're looking to reverse early signs of aging – such as diffuse redness or facial veins, fine lines, sun spots, large pores, and uneven texture – Laser Genesis is perfect for you. It improves skin tone and clears complexion without the need for ablative laser procedures.
In only 4 to 6 treatments, Laser Genesis treatments can restore your skin's youthful, dewy glow by doing the following:
Safely and gently treat diffuse redness and rosacea
Diminish acne scarring
Stimulate collagen production
Reduce the appearance of fine lines
Naturally promote a healthy skin
It can also be combined with other treatments like Skinpen Microneedling, Dermalinfusion, Dermaplaning, and Limelight IPL to amplify the rejuvenating effect and achieve the appearance of the glowing skin that you're looking for.
Role Of Collagen
Collagen is protein that provides strength and structure for the entire body. It's what gives us that natural plump, youthful look. With age, we tend to lose significant amounts of collagen, resulting in sagging skin and fine lines and wrinkles.
Laser Genesis is scientifically proven to boost the production of new collagen. The heat generated by the laser causes collagen contraction and repair, reducing redness and tightening the pores to make them appear smaller.
How Does Laser Genesis Work?
Laser Genesis is effective at improving the appearance of wrinkles through collagen stimulation by applying a gentle heat on the upper dermis. This heat is deeply absorbed within the papillary layer of the skin and dilates the capillaries to reduce redness and improve skin tone and texture. The warmth from the laser will also stimulate cell renewal, so your new, fresh skin will come through quicker, giving you a tighter, brighter and clearer complexion.
Schedule a consultation today to find out if Laser Genesis treatment is right for you.
Pricing for Laser Genesis
Face, Neck and Chest —- $650
Book Now
Frequently Asked Questions