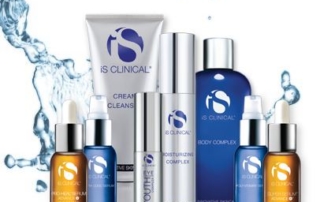 03 Jun

How to Take Care of Your Skin This Summer with iS Clinical Skincare

Get the fresh summer skin you're craving with the medical grade skincare products from iS Clinical. You're probably looking forward to some fun in the sun this summer. Knowing that prolonged outdoor exposure, especially high temperatures and humidity; can all wreak havoc on your skin. Luckily, iS Clinical offers a series of clinically-proven skincare products to help your skin become as healthy and radiant as possible this summer. By assembling some of the world's leading skincare specialists, including pharmacologists, geneticists, biologists and physicians, iS Clinical has created a line of products that are at the forefront of healthy skincare and anti-aging. Here is some more information about how iS Clinical can keep your skin looking and feeling its best this summer.
iS Clinical's Four Step System

The innovative system from iS Clinical proceeds in four steps:
Cleanse— iS Clinical has a number of cleansing products; Such as Cleansing Complex, Cream Cleanser and Warming Honey Cleanser. They are designed to remove excess oils from the skin without causing dryness. Therefore they are ideal cleansers for the summer, when sweat and makeup can make skin especially greasy.
Treat—The second step of iS Clinical's system focuses on targeting specific skin conditions such as acne, rosacea and hyper-pigmentation.
Hydrate— Hydration is important in the summer! When the harsh rays of the sun can leave skin feeling dry, iS Clinical's hydrating skincare products, like their Reparative Moisture Emulsion can improve skin's resiliency without clogging pores. Also, the Hydracool Serum is an intensive penetrating hydrator that is light weight and refreshing; Perfect hydrator to be included in your summer skincare routine.
Protect— It is important to keep it protected against the sunburn and free radicals. iS Clinical's UAV/UVB sunscreens are designed to keep skin glowing and healthy even in the hottest temperatures.
Find the iS Clinical Skincare Products You Need at MC Laser Clinic & Hair Salon
At MC Laser Clinic, we recognize how difficult the severe conditions of summer can be for your skin. High temperatures, increased humidity and prolonged exposure to the sun can cause serious damage to your skin. That's why we offer a number of iS Clinical summer skincare products, so that you can get the clinically-approved full skincare treatment you need this summer. For more information about the iS products we carry and all of the various skin and haircare products and services we offer, contact us today at MC Laser Clinic & Hair Salon.